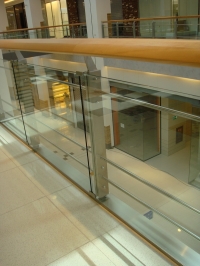 Thank you for visiting the web site of "Arkada-22" Ltd.

Here you can get an idea about the metal products we produce, the scope of our work and you can see many of our completed products and projects in a rich gallery of photographs materials.

Why choose us?

Because for the last 16 years presence on the metal products market we gained rich experience in design and manufacturing of metal products, metal structures and constructions, building and facilities design, both in Bulgaria and abroad.

Because we can offer you a comprehensive implementation – from the design trough the manufacturing of the metal products to their installation on your construction site.

Because we work fast and mostly qualitative.
We have well equipped manufacturing facilities and high qualified staff ready to implement your project the way you want it.

Here you will find: metal products, metal structures and constructions, metal railings, stainless steel railings, glass railings, metal stairs, doors and fences, canopies and visors, buildings and facilities design.